A hall, several rooms or the castle as a whole?
event (s), you can use various separate rooms at Castle Groot Buggenum, each with its own character, atmosphere and possibilities. But you can also choose to use several rooms during your stay. Start a plenary and then work in groups and then close again in plenary. It is all possible. Our private courtyard is also available for a stylish welcome in the open air or a cozy outdoor lunch as a refresher between all efforts. And always exclusive. There are no other guests present, so no faults but 100% attention to what one has met. In combination with the warm, classic decor of the castle, this gives a very special and unique dimension to your stay. Probably few locations can offer you this exclusivity and versatility.
Helmut Hentrich hall
We have a stately space with a long table around which 24 comfortable chairs for formal discussions, negotiations or meetings. Also very suitable for dinners with a more exclusive character. A perfect workspace also for trust committees.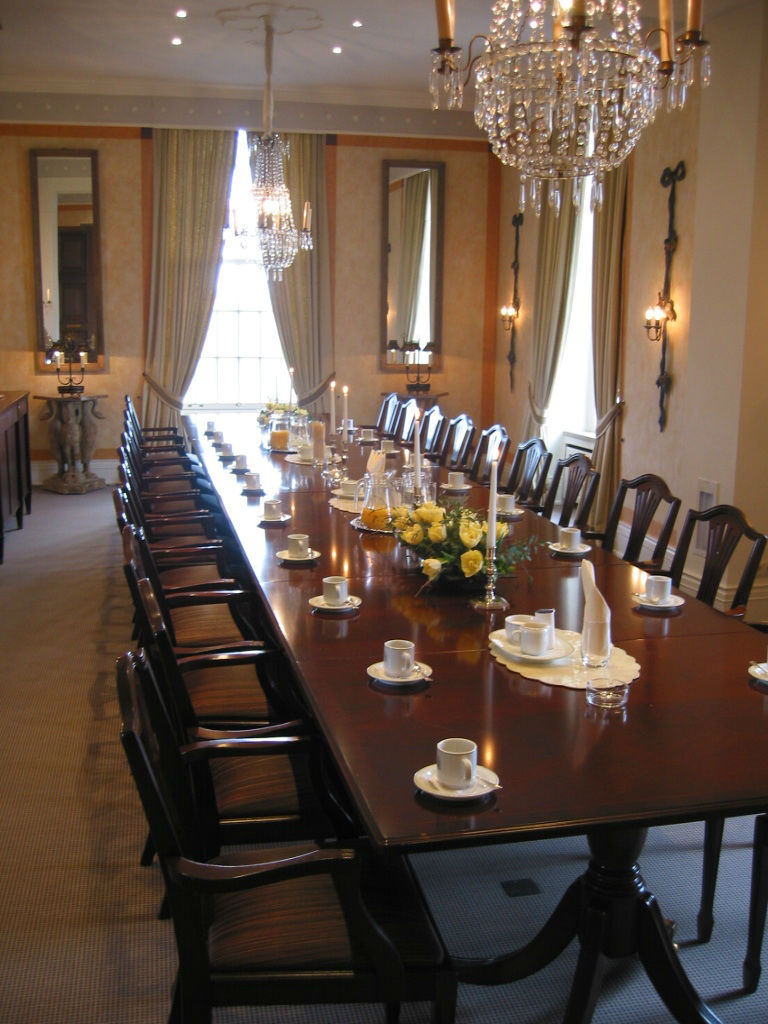 The library
This was the office of Professor Helmut Hentrich, with a round table for 4 people. Surrounded with books in which the wisdom of people is stored, it is no different than that thoughtful and sensible decisions are made in this room. Perfect as a subspace to have consultations in small commitee.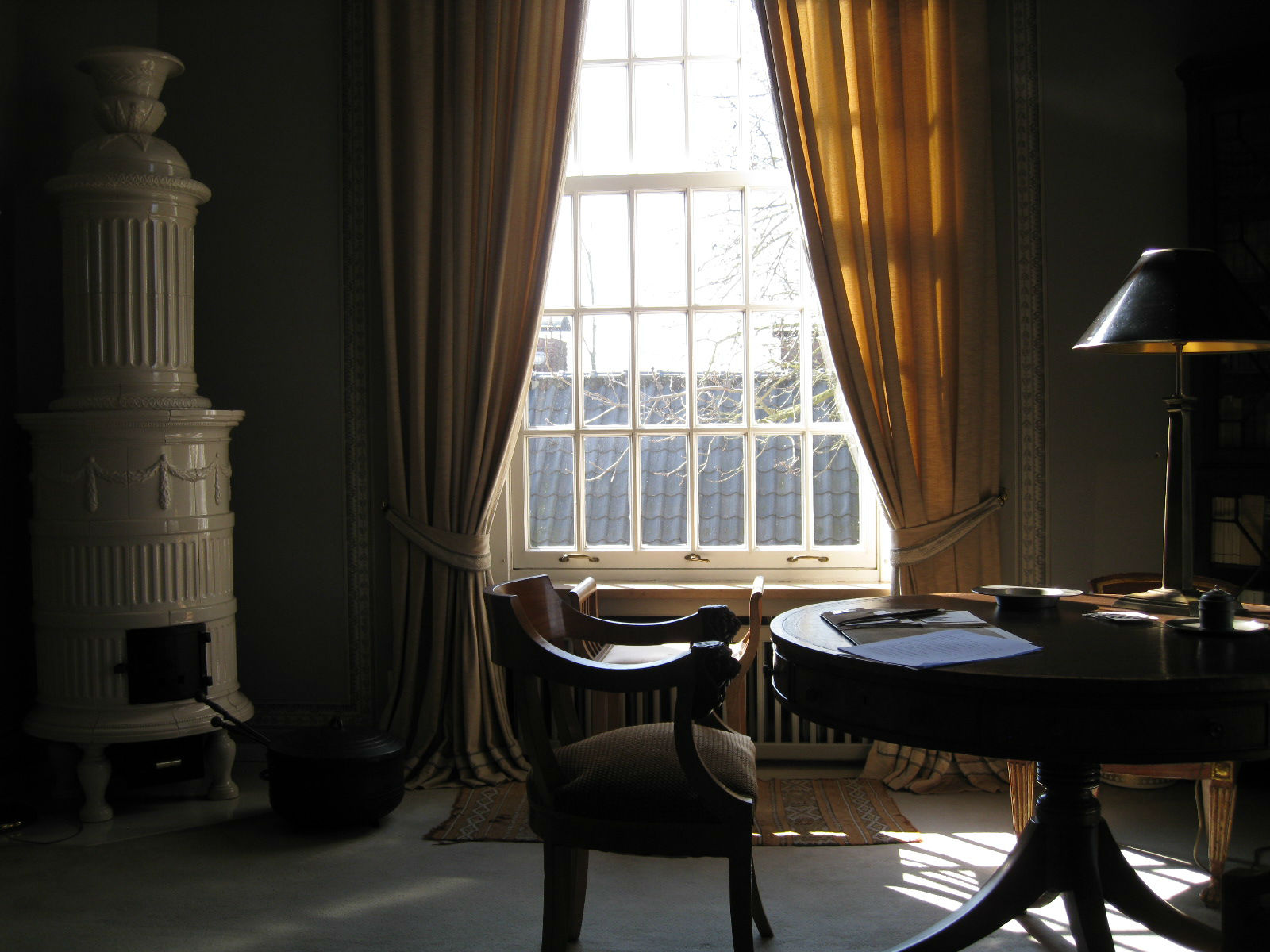 The dining room
In addition, our dining room, oval table for up to 8 people. Stylish, but more compact to come closer together.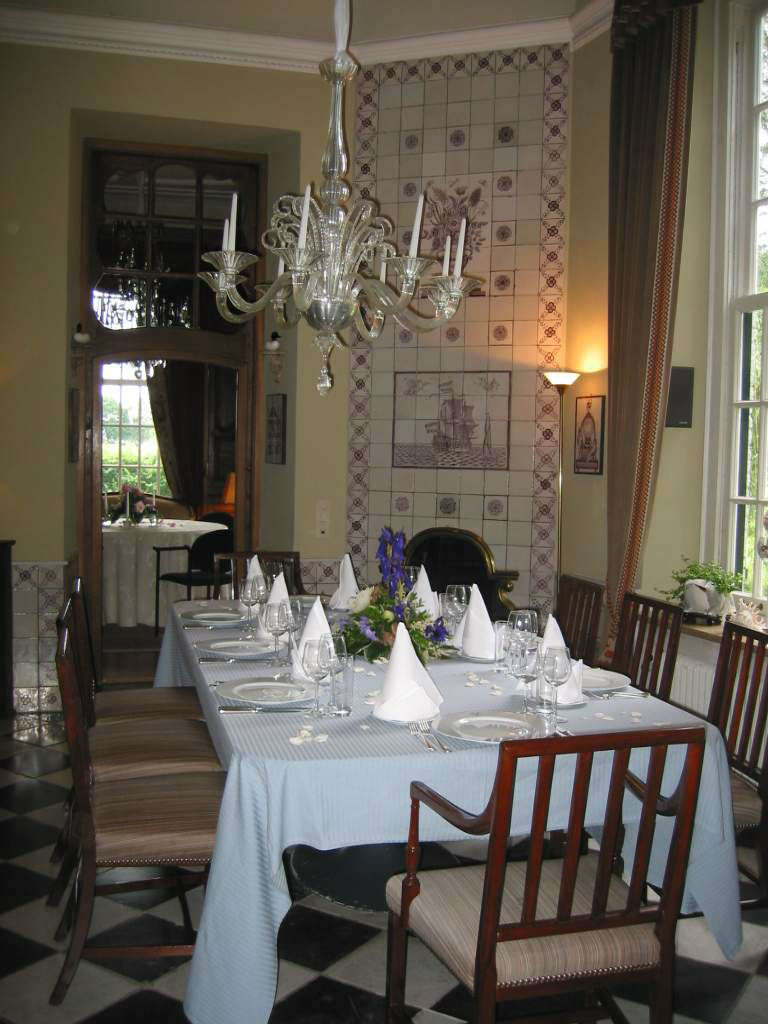 The Boisserie
Also called the wooden room by the large wood paneling richly decorated with paintings by Helbig. A subspace for a workgroup or to converse on level with a sturdy glass in hand. up to 6 people.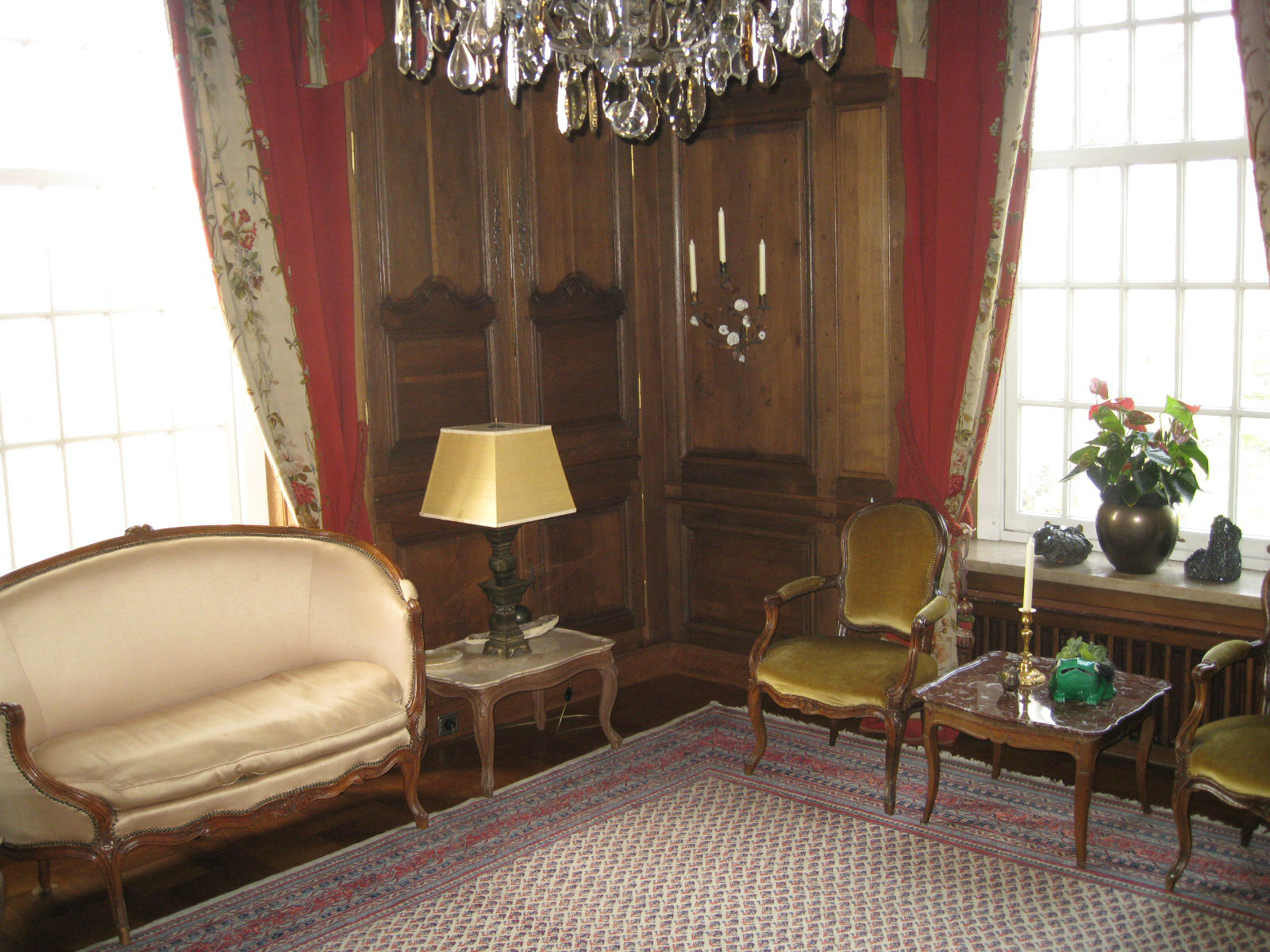 The Garden Room
Very special is our garden room with a long oval table in a warm homely style, overlooking the garden. More suitable for the informal work discussions. A maximum of 16 people can stay well here to achieve results. This room is also frequently used for lunch.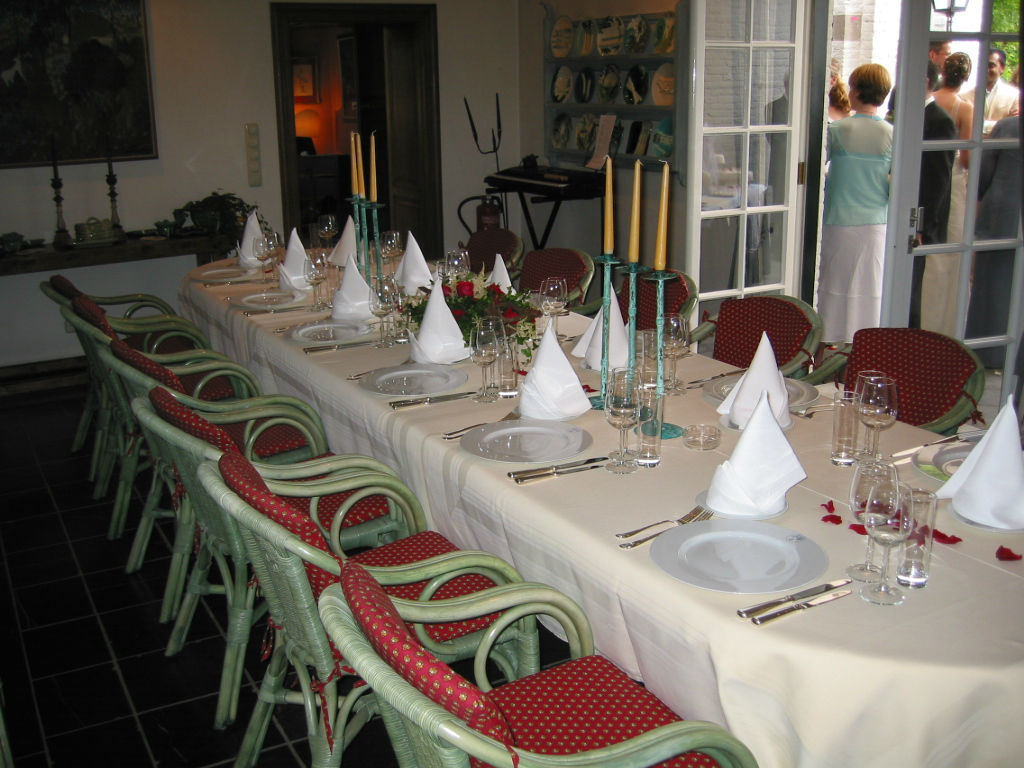 The covered terrace
On the waterfront with the doors open, long table for 8 people. For informal encounters as a sub-area particularly suitable.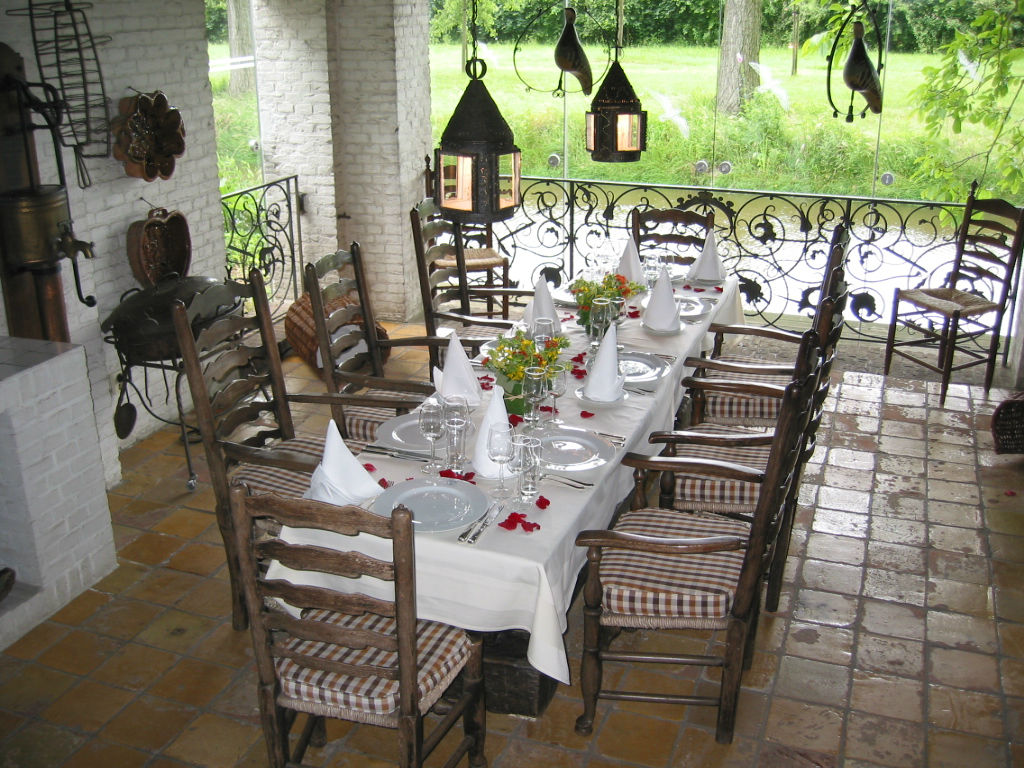 The Hearth Room
Looking at the flames in the hearth often stimulates the emergence of new ideas and opens up heated conversations. 3 seat for 9 people around the fireplace. As a subspace for a workgroup, but also ideal for a drink after a strenuous working day.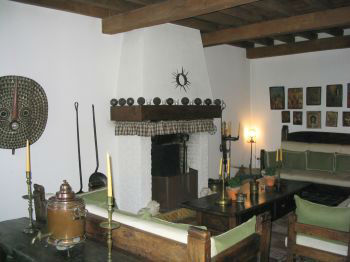 Room the Herb Garden
Our largest and most multifunctional space. A modern space, with all new technical facilities, attached to the castle's classicity without affecting the ambiance of the castle, but rather increasing it yourself. Old and new, in ultimate balance with each other. Is not that often also the reason for every meeting and / or meeting? Getting to a new situation from an old situation. By informing, searching for a new way of working, a new balance at a higher level. Groot Buggenum Castle exudes this by nature and is therefore the perfect breeding ground for the results you want to book. Room the herb garden for gatherings seated up to 120 people and standing up to 200 people. Because sometimes there is reason to party or bigger event or a reception. Then this room is a perfect place, also in combination with the rest of the castle and possibly the courtyard.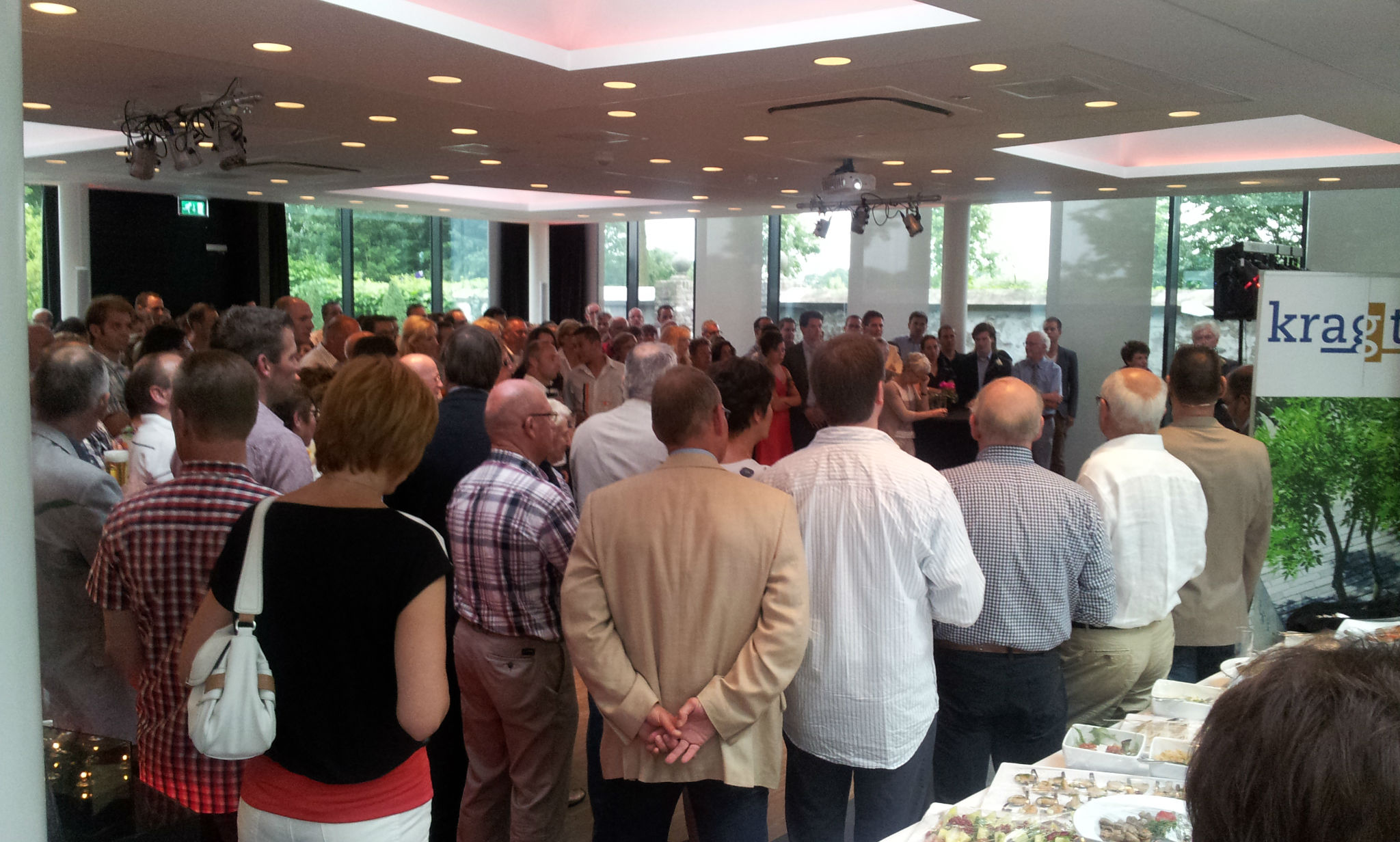 The courtyard garden
In front of the castle is our courtyard surrounded by walls with relaxing green grass surfaces, a colorful border with flowers and an appropriate pavement of round maaskes. On the grass are our round garden tables, each with 6 elegant chairs, above that a white parasol. 10 tables with 60 seats. When the weather is nice, you can also use the courtyard for a welcome (a buffet with coffee, tea and a delicious slice of Limburg pie). Or after a strenuous morning session, enjoy a delicious lunch in the open air. Also as outdoor space for workgroups if it is not plenary in the room. Or eat outside with a buffet or BBQ after a fruitful working day. But it is also nice to have a drink at the tables on the grass. The courtyard is there, so we use it too.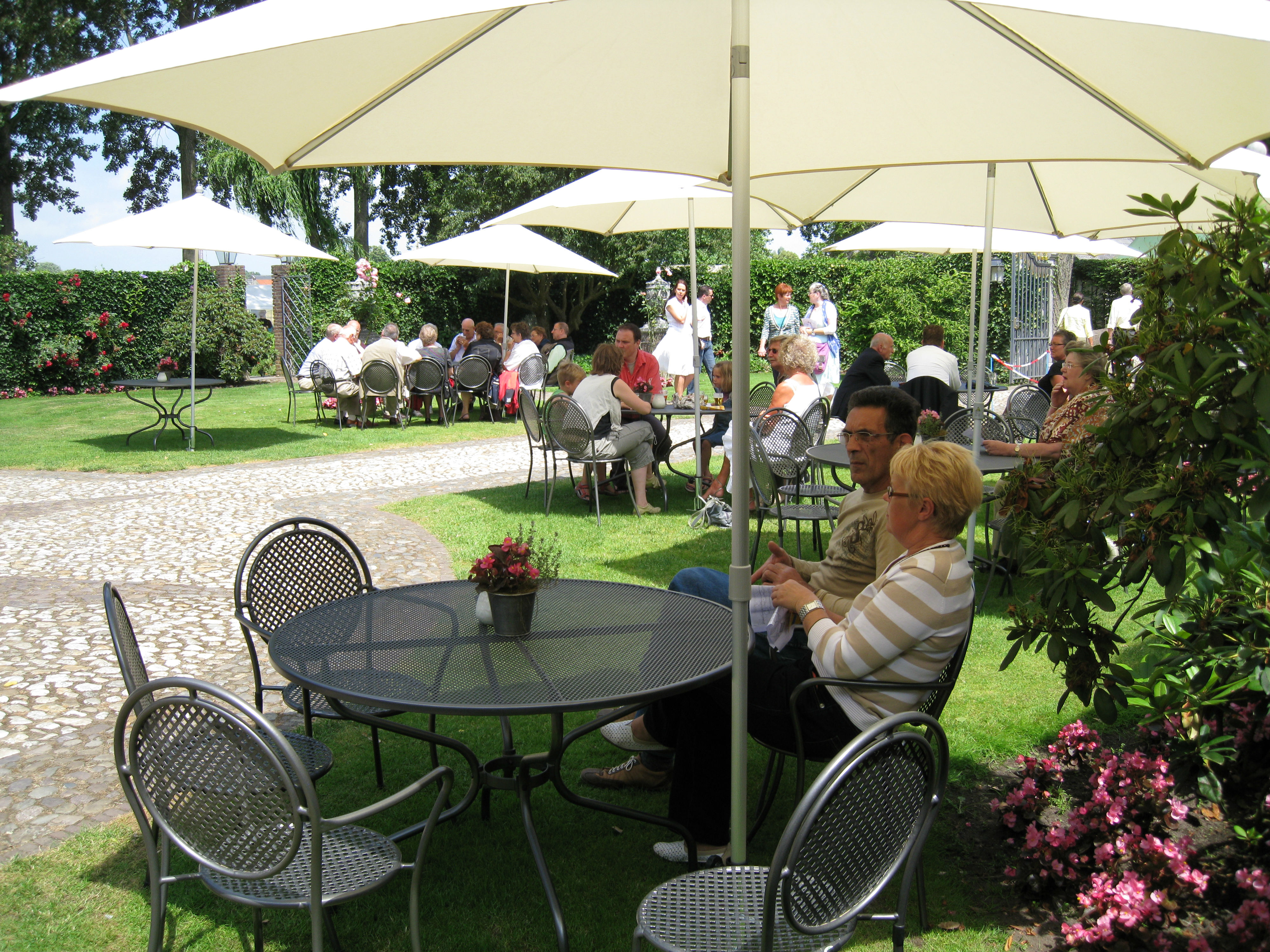 Accessibility
Centrally located in Central Limburg along the A2, between Weert and Roermond. Only 30 minutes from Eindhoven, Maastricht, Heerlen, Venlo.
Easy to find, easily accessible and with a private parking for 100 cars.
Room The Herb Garden
Theater:
  120 

people

Cabaret:
    60 

people

Carré:
    36 

people

U-Shape:
    28 

people

School:
    50 

people

Long Table:
    24 

people

Dinner block 8 pers.:
    80 

people

Reception / Party:
  200 

people
Theater setup up to 120 people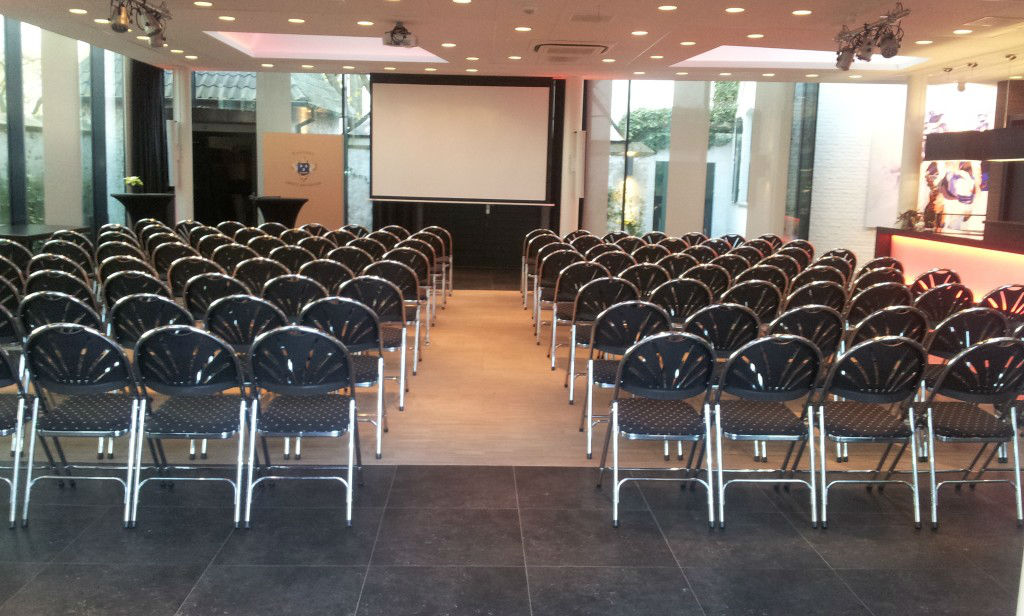 Cabaret setup up to 60 people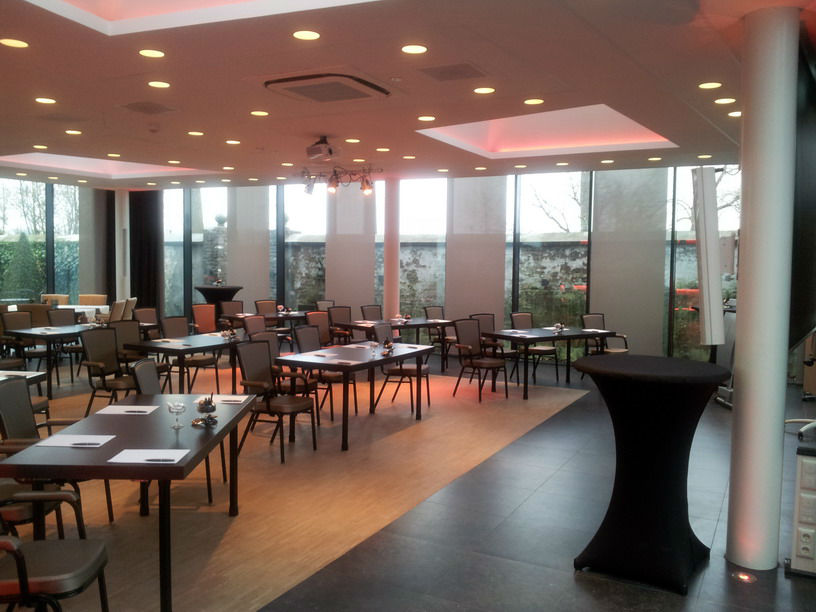 Carré setup up to 36 people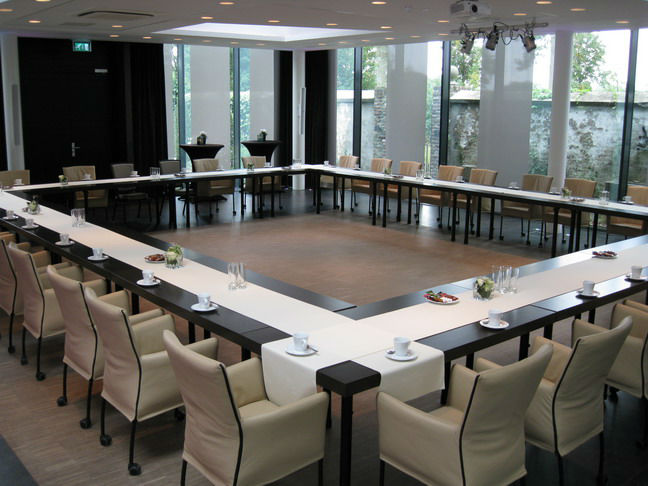 U-shape setup up to 28 people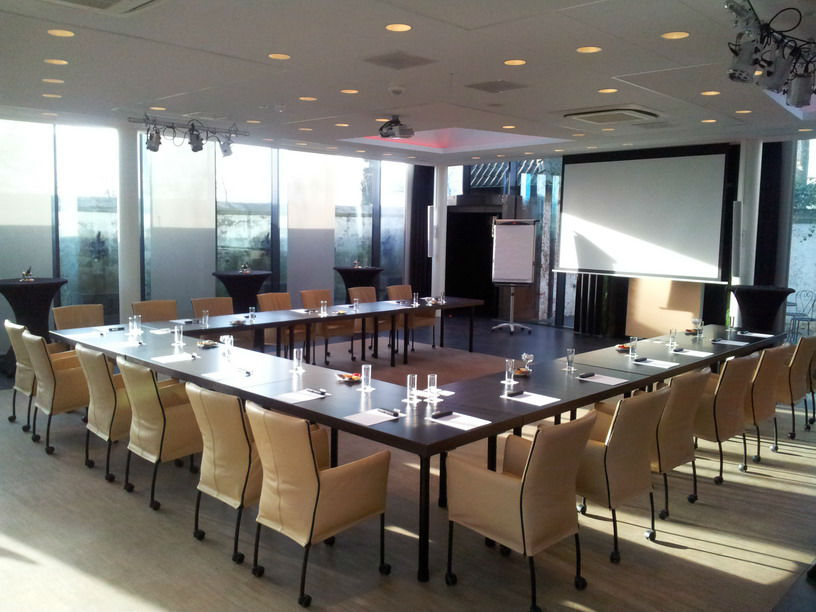 School setup up to 50 people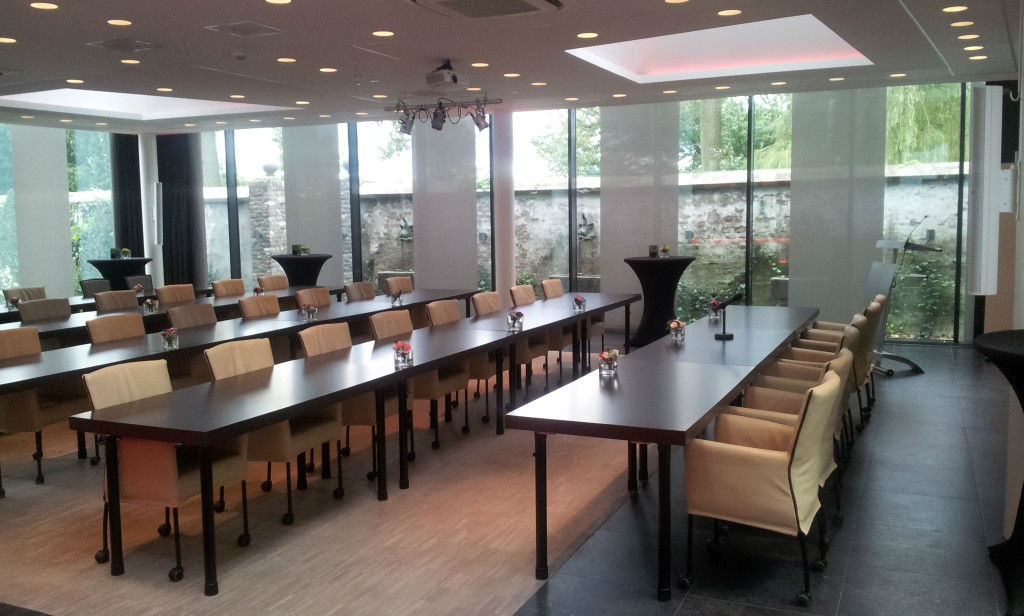 Long table setup up to 24 people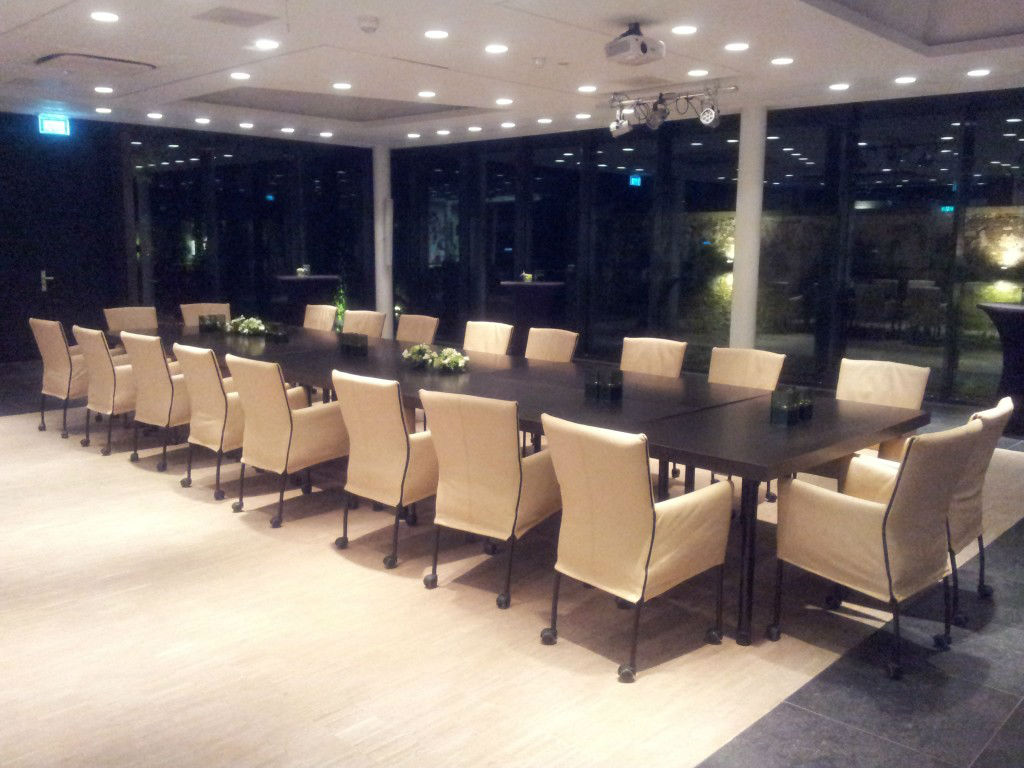 Dinner arrangement in blocks of 8 people up to 80 people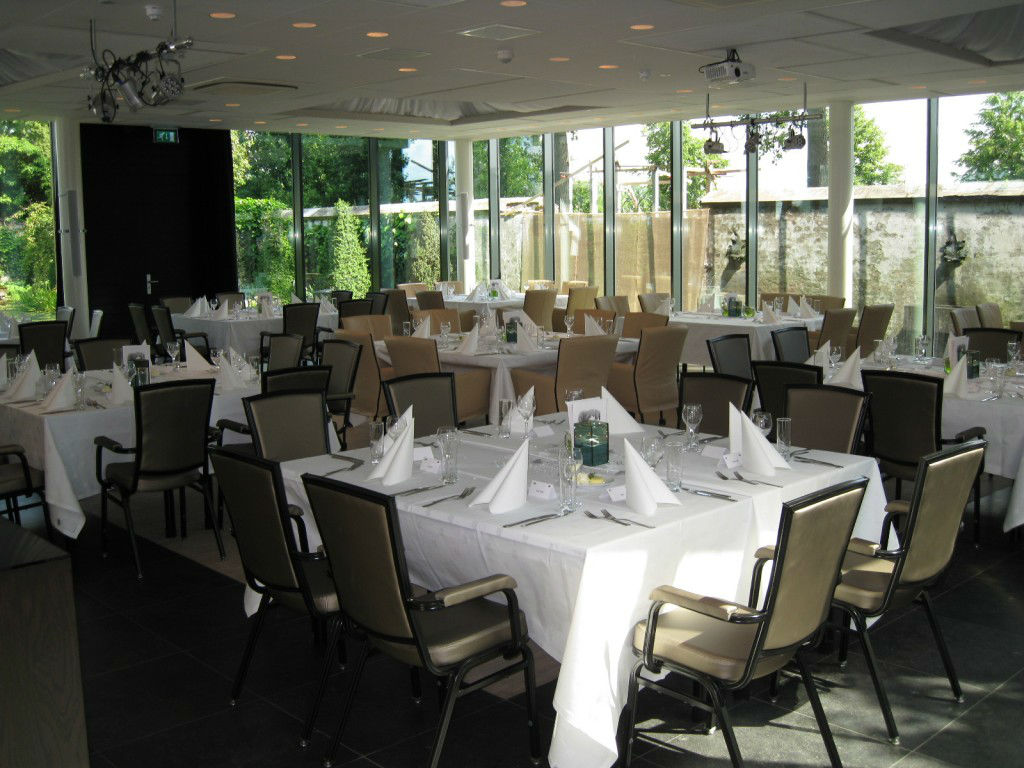 Reception – reception – banqueting room up to 200 people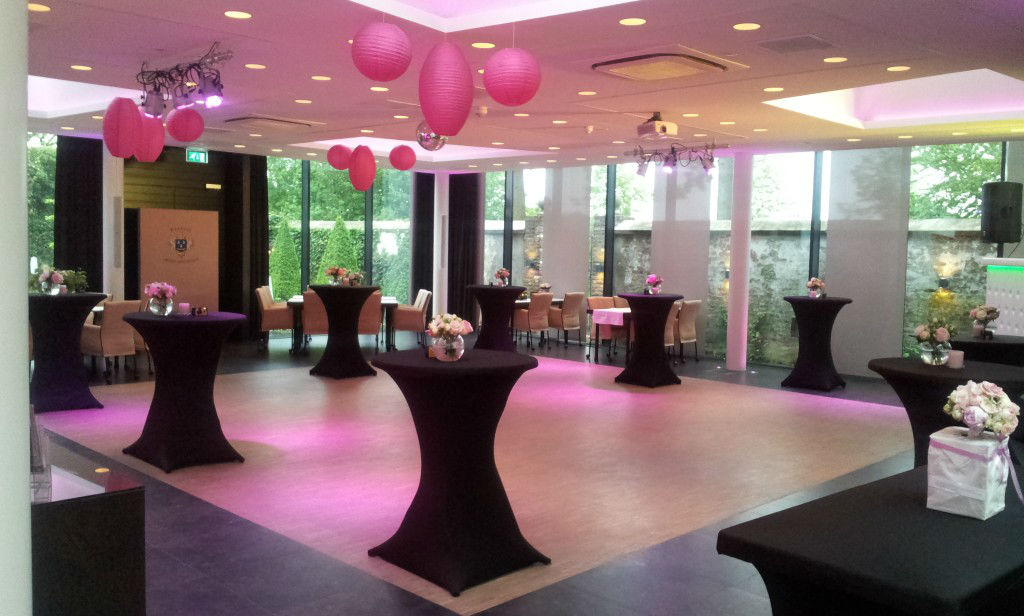 Garden Room
OVERVIEW CAPACITY SUB-SPACES
| | |
| --- | --- |
| Dining room: |     6 people |
| Boisserie: |     6 people |
| Hearth room: |     9 people |
| Covered terrace: |     8 people |
| Courtyard: |   50 people |
1st floor
HELMUT  HENTRICH ZAAL
| | |
| --- | --- |
| Long Table: |   24 people |
| Library: |     4 people |